While we talk about a new thought or concept to many, the Best AI copywriting software, we have to use has been around for a while – but the question is that just how much has it progressed over time? From many apps like Grammarly that we use to check grammar and plagiarism to services like Copy.ai and Jasper like apps that can write our entire articles, Best AI copywriting software has come a long way.
Keep in mind all these tools for writing use artificial intelligence to take care of the tone or structure and format of our content to make sure our brand messaging stands out.  
In short, we would like to say, all AI-based writing assistants can streamline our writing process and improve our content quality for maximum engagement in an easy way.
Here's an overview for you of what AI copywriting is, how to use it, the benefits of Al copywriting, how it works, what features to look for, and how much you have to pay using this type of software costs.
List of Best AI Copywriting Software
If you will use this Best AI Copywriting Software then these tools can help you to take your business from good to amazing by providing you with the tools that will allow you to produce more amazing and impressive content than ever before. 
1. Jasper.ai
It is originally known as Jarvis.ai, Jasper is an Best AI Copywriting Software, and its amazing fact is that it's used by over 30,000 content marketers at top companies around the world, companies like HarperCollins, the leading book publishing company around the world. They introduce the new feature and with this Jarvis' new Boss Mode feature, you can easily and quickly write original, high-quality content just using simple, natural commands.
Their Starter plan is $29/mo for its users and it includes 20,000 words per month while we talk about the Jarvis Boss Mode plan, which lets you write long content as you wish, starts at $59/mo for 50,000 words per month.
Top Features:
It has 50+ content templates
It has the ability to write long-form content
Surfer SEO Integration
2. Copy.ai
When we talk about Copy.ai then it is a great option for those people who are unsure about AI copywriting tools since they offer a free 7-day trial (with no credit card required!). It can be said that using similar technology to Jasper, Copy.ai also can help you to write everything from blog posts to sales copy and also your social media content.
If we talk about its popularity then Copy.ai has a well-rounded and well-known content improver tool that helps you to refine your writing. Its paid Pro plan starts at $35/mo when it is billed annually, and its custom packages are available for larger marketing teams to create unique writing, and this package is unique.
3. Bertha.ai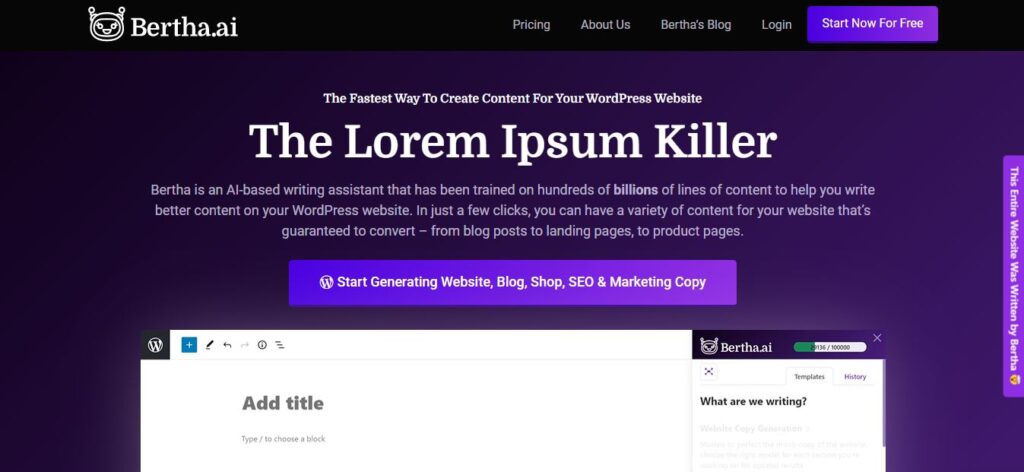 Bertha.ai copywriting software is the first fully-integrated AI writing assistant for the users of WordPress. This software correctly works with all major page builders including Elementor and Divi.  Two well-known in the WordPress industry have created this software named, Andrew Palmer and Vito Peleg, which clearly means the WordPress integration is seamless.
Bertha empowers the website owners to create more inspiring and more effective content in less time by producing content directly in the WordPress post editor in an easy way. This AI copywriting software plugin has two billing options: subscriptions start at just $25/mo for a maximum of 20,000 words and pay-as-you-go pricing (no subscription) is also available in this tool.
4. Writesonic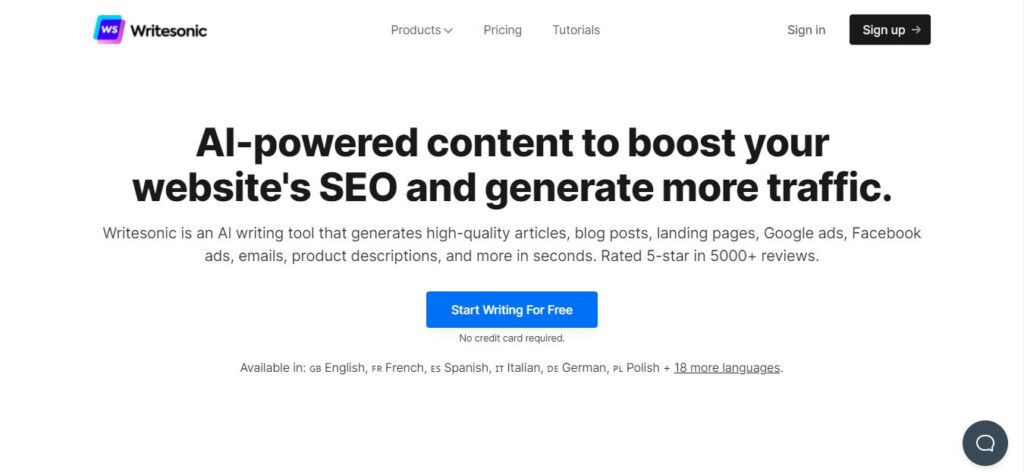 Writesonic is a good Al copywriting software that can help to write over 20 different types of content, including copy for Facebook Ads and also Amazon Product descriptions. This amazing software offers you a free trial if you are a new user and for all the new users that include a handful of free credits to try their writing platform.
This Al copywriting provider offers pay-as-you-go pricing in addition to monthly subscriptions which makes it great and easy for all the casual content writers.
5. bramework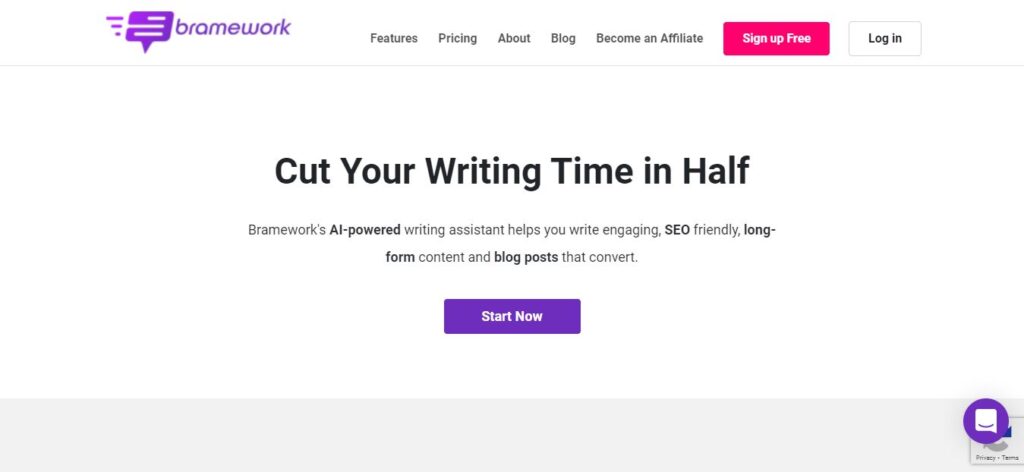 If we talk about Bramework then I will say I love Bramework. When you need to search for something related to a blog you have just to write using the program and will see my blog ranking as #1 and #3 in search results. It can be said that the Framework AI Assistant helped you rank.
When you have to do keyword research, just come up with a title, have to create an outline, write your content and also find your required images. Framework always helps you to write a quality long-form blog post faster than ever.
6. Outranking.io
Outranking Copywriting software is an advanced AI-writing assistant which directly focused on SEO that incorporates unique and amazing features not found by other tools. This software outrank incorporates factual research, which is something that even other writing tools struggle with.
I talk about its features then their AI Wizard is a delight to easily work with simply you have to enter a topic and you'll have a title and outline in under just 15 minutes. The Pricing for this tool starts at $39/mo.
7. Content Bot
The amazing fact about ContentBot is that this software is used by over 15,000 marketers to aid their content creation process. Using OpenAI's GPT-3's natural and simple language system, ContentBot can produce human-like text for your blog posts and also for video descriptions. We can say that ContentBot is the only AI writer to offer discounts for non-profits.
8. Anyword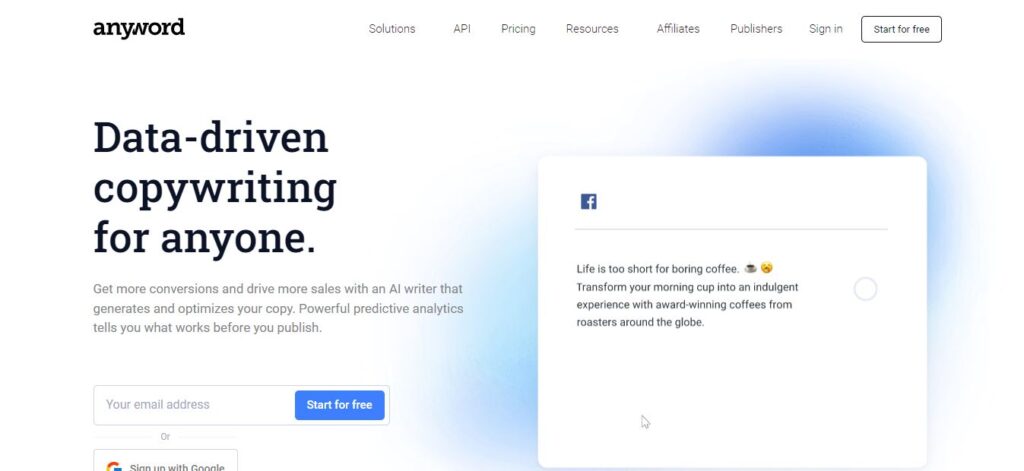 It's the fact that Anyword is a leader in the AI-based copywriting market and naturally, it can be qualified to be termed as the best AI copywriting tool. The useful copywriting software was founded in 2012 under the name of Keywee and recently it changed its name to Anyword.
If we talk about its pros then Anyword has a lot of advantages, and one of its most impressive and important features is the predictive performance score. What does this impressive feature mean? Every version of copywriting that Anyword generates for its long list of featured content types comes with a large numbered score.
This score gives you a unique idea of how well the copy will convert the audience, i.e., the higher the number or strength, the greater the chance of a conversion.
When we talk about pricing then this score is based on Anyword's "Big Data" collection that leverages ad spending worth more than $250 million to the users. With this helpful information, Anyword's AI can easily understand what language appeals to which type of audience on a statistical level, and that is the score that you can see.   
9. Rytr
Rytr copywriting software is one such AI copywriting tool that has silently crawled the way to the top list to compete with other hot-shot AI copywriter tools. This amazing software is relatively new and so are its competitors. In addition, Rytr packs all the needed and necessary features and amenities to help you conquer your copywriting hurdles in an easy way.
WE will suggest you not forget to use the advanced GPT-3 AI language model. In addition to this, we can say, Rytr software also packs a proprietary AI developed by the team to further enhance all your copywriting experience. 
What are the Benefits of AI Writing Software?
There are numerous benefits of machine-enabled writing tools that we have observed, such as AI writing software. The most significant benefits are the following:
Saves your time.
Increases productivity
Saves your money
Creates a broad range of content
Has mass-market potential   
Is Beats writer's block
It is Fact-based
Which Features Should you Look for in AI Writing Software?
When you are looking for an AI writing assistant, then keep in mind that you must have the following features at your disposal.
Error-free Proofreading
This alone very helping feature can make or break the efficiency of an AI writing tool. This amazing feature is essential to all types of writers regardless of what kind of content they want to produce. As an example of it, we will say as Evernote uses AI to collect and organize new content but it does not allow in-depth proofreading to you like Grammarly.
Multi-language Support
The best AI apps have the feature of supporting multiple languages. Having this feature they will let you translate already-written content in an easy way. This useful feature comes in handy when you are writing emails, ads, and review responses, especially for a foreign client or want to target an audience.
Anti-Plagiarism
As we know several AI writers exist, but not all generate 100% original and plagiarism free content. This feature makes it best to pick software that never plagiarizes.
Brainstorming
AI writing software should have the feature which is able to brainstorm for your creative blog post ideas that are relevant to the brand's target audience, engage your audience, and also proves high-ranking on search engines.
Keyword Inclusion
All Your content serves the purpose rightly of ranking on Google and reaching more people. But this ranking is impossible without keyword implementation. Therefore, an AI must have the feature and skills to make content SEO-friendly. 
Conversion-Oriented
For all kinds of brands that want to sell through your content, AI designed to work towards higher conversion rates is best and wonderful. For example, we see Jarvis uses two models to generate marketing copies –AIDA (Attention, Interest, Desire, and Action) and the other is PAS (Problem identification, Agitation of the problem, and Solving the problem with the product).
What is AI Copywriting Software?
AI copywriting software is a "robotic" application and it uses a number of technologies that can automatically create a large number of content. This software allows you for near-error-free content creation and the copywriting software resonates with your target audience easily using artificial intelligence and machine learning technologies to make your process faster. An AI copywriting application is capable of writing a number of content that goes beyond a commercial post. It is an amazing fact that they can even write sentimental content like love letters.
How does AI Writing Software work?
I talk about artificial intelligence, Artificial Intelligence comprises two elements – machine learning as well as artificial neural networks (ANNs). All AI writing tools use these same two elements to work, produce and edit new content.
In addition, Machine learning involves developing new learning helping algorithms, and improvising the already existing ones. This feature enables the software to analyze large, complex, and difficult data and recognize patterns, make predictions, proofread, and give you better suggestions.
We can say that Artificial Neural Networks are a key tool in machine learning. These networks mimic the human brain by stimulating the network of neurons rightly that make up the human brain.
How Much Does AI Writing Software Cost?
Despite their extraordinary assistance, we can say that even all the best AI software is easily affordable. It is depending on the set of features they offered, most Al copywriting software tools cost between $10 to $120 per month.
Conclusion
All these copywriting software are designed with the needs of writers by keeping in mind and making it easy for you to create engaging, high-quality content easily, without needing any technical knowledge at all.
To conclude we can say that if you are a writer who is looking for an easier way to generate content online? Then don't worry, by using all the above Copywriting software you can easily do this. For success in your field, you don't have to be a marketing expert or an AI writing pro in order if you use these AI copywriting tools.